2023 Lexus Rx Gains Sportier Looks And Chassis Tuning Thanks To Trd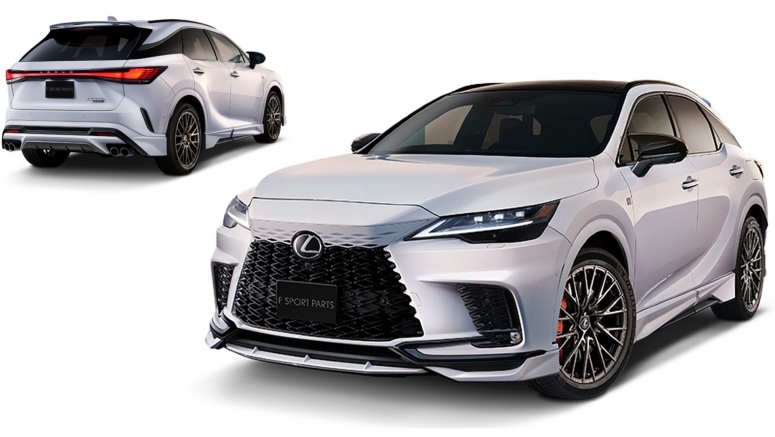 The new Lexus RX might be offered in an F Sport Performance trim right from the factory, but there is always room for improvement. For owners who want something more in terms of visual sportiness, TRD is offering a range of F Sport parts for the  SUV that are already available through Lexus dealerships in Japan – sorry folks, they're not offered over here.
At the front, the aero kit includes a revised splitter, following the lines of the stock bumper with more complex shapes. In combination with the thicker side skirts and rear bumper extensions, they make the Japanese SUV appear lower than stock, without changing the height of the suspension.
Driven: The 2023 Lexus RX Raises The Crossover Bar Again While Dropping V6
TRD offers two different designs of forged alloy wheels that measure 20-inches and 21-inches, alongside more aerodynamic mirror covers. At the back, there is a more prominent diffuser housing the new quad tailpipes, and a rather discreet rear wing. The entire bodykit can be ordered in body color, white gunmetal, or matte black shade.
Finally, the tuner upgrades the chassis with revised tuning for the member braces and the performance dampers. Those changes are said to eliminate vibrations while improving riding comfort and steering stability. Typicaly, TRD didn't mess up with the powertrain. Note that the SUV produces as much as 367 hp (274 kW / 372 PS) and 406 lb-ft (550 Nm) of torque in its RX 500h F Sport Performance flagship plug-in hybrid trim which also comes equipped with the Direct4 all-wheel drive system.
According to the TRD catalog, the F Sport Parts bodykit for the Lexus RX costs ¥792,000 ($5,572) although each part can also be purchased individually. The wheels are the most expensive part of the upgrades, at ¥1,012,000 ($7,120), and the 21-inch set includes a new set of Michelin Pilot Sport 4 SUV tires.
Photo
Gallery