Toyota To Increase Aftermarket Accessory Options Through Dealers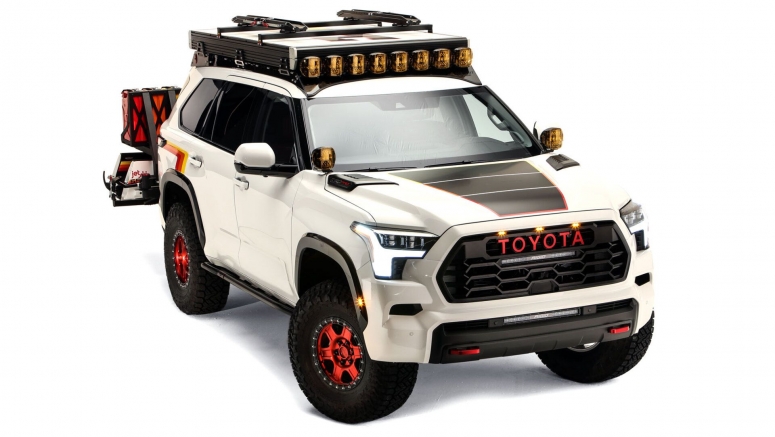 Toyota knows that its customers want to add off-road accessories to their vehicles. It's one reason it brought several impressive off-road-focused vehicles to SEMA this year. It's also why the brand is making a new push to offer desirable upgrades and accessories through its Associated Accessories Products program. This gives buyers the chance to have their vehicle precisely as they'd like from the factory with the warranty intact. On top of that, accessory purchases can also be rolled into their vehicle financing.
Toyota's big four, the Sequoia, Tundra, 4Runner, and Tacoma, are popular vehicles. And customers often customize them with expensive parts after the initial purchase. Toyota is hoping that its new AAP program will bring some of that cash back in-house while benefiting customers at the same time.
Toyota has teamed up with aftermarket brands like Rigid Industries, Yakima, and ARB and will sell their products through dealers. Buyers can then have the aftermarket accessories installed on the vehicle before it's even delivered to them. These parts will all carry Toyota or Lexus part numbers too. Dealers specifically will handle the installation of these parts which is not included in the price of the accessory itself.
Read: Toyota Sequoia Looks To Conquer SEMA As Well As The Great Outdoors
"We're excited to make it easier than ever for our customers to outfit their vehicles themselves right from the dealer," said Lisa Materazzo, group vice president – Toyota Division Marketing. "The AAP program will make customization a seamless experience for every owner, and every part will be validated by Toyota."
That validation comment is important because it means that dealer-installed parts from the AAP program won't void the warranty on the vehicle. That can't be said of many parts installed outside of the dealer. Included in covered upgrades are lift kits too. Tacoma and Tundra owners can already order a lift kit for their trucks through the program.
According to Automotive News, customers have the option to roll the cost of these parts into financing. Not only does that reduce the upfront cost for consumers but on the back end, it increases financing profits for dealers too.