More Heavy Snow Forecast For Sea Of Japan Coasts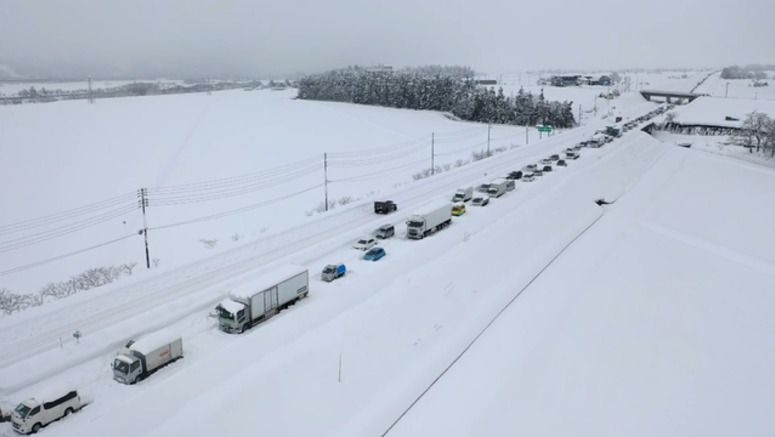 Another blast of heavy snow is expected for coastal areas of the country along the Sea of Japan starting around Friday evening.
Due to a strong cold air mass over the Japanese archipelago, coupled with the season's typical atmospheric air pattern, heavy snow continued falling in mountainous areas from northern through western Japan.
Record heavy snow of about 200 centimeters fell in mountainous areas of Niigata Prefecture on the Sea of Japan coast and in Gunma Prefecture, eastern Japan, for three days until Thursday.
As of 11:00 a.m. on Friday, 183 centimeters of snowfall was observed in Minakami Town, Gunma Prefecture and 161 centimeters in Yuzawa Town, Niigata Prefecture.
About 40 centimeters of fresh snowfall is expected for 24 hours until Saturday morning in mountainous areas along the Sea of Japan coast in the Tohoku region and Niigata Prefecture.
Snowfall of about 30 centimeters is also expected in the Hokuriku region, on the Sea of Japan coast. Heavy snow is expected to continue until Sunday morning.
Meteorological Agency officials are warning of possible traffic disruptions, avalanches, snow sliding off roofs and snow accumulation leading to downed power lines and trees.
They are also urging those who remove snow from rooftops to use utmost caution.
Meanwhile, vehicles have been stranded by snow on an expressway in Niigata Prefecture since Wednesday.
East Nippon Expressway officials said on Friday that about 1,000 vehicles still remain stranded.
Local rescue workers said they received reports that some of those stranded in vehicles have become sick.