Tokyo Olympics, Paralympics Cost Over $12 Billion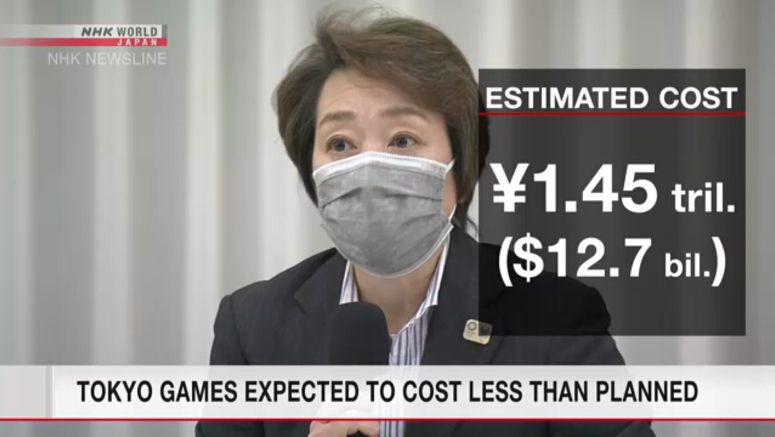 The organizing committee of the Tokyo Olympics and Paralympics says it expects the total cost of the Games to be 1.453 trillion yen, or about 12.7 billion dollars. That's about 200 billion yen, or about 1.75 billion dollars, lower than the budget, as operations were simplified amid the coronavirus pandemic.
The estimated cost at this point was reported at a meeting of the committee's executive board on Wednesday.
The Games were postponed from 2020 to this year due to the pandemic. In December last year, a budget of 1.64 trillion yen, or about 14.4 billion dollars, was announced.
As a reason for the reduced amount, officials pointed to lower spending on anti-coronavirus measures for spectators, security steps and transportation because events were held without crowds at most venues.
They also said the Games' operations were simplified and contracts reviewed to cut costs.
The officials added that there will not likely be new expenditures associated with the Games in the future.
Revenues from the Games were 71.7 billion yen, or about 630 million dollars, lower than the initial forecast because of low revenues from ticket sales. The Tokyo Metropolitan Government will make up most of the shortfall.
In the bid to host the Games in 2013, officials said about 734 billion yen, or about 6.4 billion dollars, would be spent. But the budget swelled later on.
The organizing committee plans to compile the settlement of accounts for the Games around June next year.
Meanwhile, the committee has recapped the operations of the Games, which were held in an unprecedented manner.
It said it was able to manage them safely by taking thorough measures against infection among athletes and others, using rules stated in the official "Playbooks."