Former Wrestler, Ex - Lawmaker Antonio Inoki Dies At 79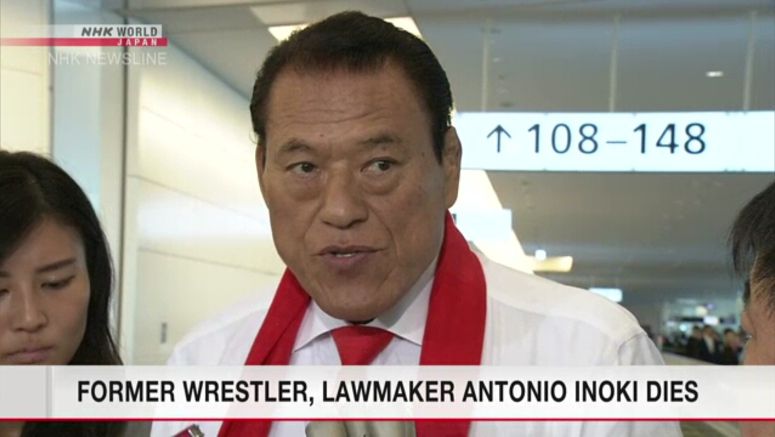 Former Japanese professional wrestling star and ex-lawmaker Antonio Inoki has died at the age of 79. Inoki, known for his many visits to North Korea to meet top officials, died from heart failure on Saturday morning.
He started his career as a professional wrestler at the age of 17, and founded a professional wrestling promotion company, New Japan Pro-Wrestling, in 1972.
One of his high-profile matches is the 1976 fight against the late boxing legend Muhammad Ali. The wrestler fought Ali in Tokyo, going the full 15 rounds with the then-heavyweight world champ in the match, which ended in a draw.
Inoki was first elected as an upper house Diet member in 1989, and a second time in 2013.
Inoki's mentor, Rikidozan, also a very popular wrestler, was from an area now part of North Korea.
Inoki visited North Korea several times and met top officials in his efforts to improve relations between Japan and the North.
Those officials included Kim Yong Il, a close aide to North Korean leader Kim Jong Un. The meeting took place in November 2013, when Inoki visited the country to take part in an event for sports exchanges.
Inoki organized an international pro-wrestling competition in Pyongyang in 2014. About 20 wrestlers and martial arts practitioners, including those from Japan, the United States and France, took part. The event drew more than 10,000 spectators, who filled the venue.
Inoki visited North Korea for three years in a row from 2016 through 2018 to meet North Korea's ruling Workers' Party vice chairman, Ri Su Yong. He said he brought up the issue of Japanese nationals abducted to the North during his meetings with Ri.