Japan's Soccer Head Coach Moriyasu Aims High In Fifa World Cup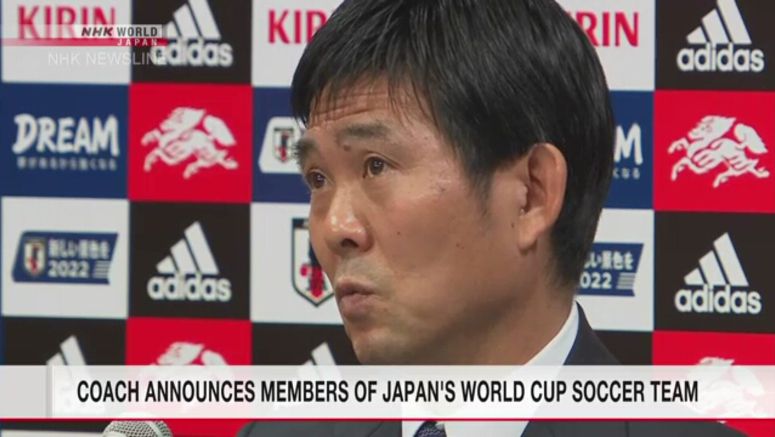 Japan's national soccer head coach Moriyasu Hajime has commented on his selection of the 26 members of the squad for the 2022 FIFA World Cup, which kicks off in Qatar this month.
Moriyasu said choosing the members was tough, but that he feels confident about his picks.
He said he chose the best players based on a comprehensive assessment with a focus on their past performance and current status, as well as what roles they can play in the World Cup.
Moriyasu said the players not only have their own strong points but also can work together as a team. He added that they can demonstrate their individual skills in relation to the organization.
Moriyasu noted that other players aspired to participate in the World Cup, and he stressed that their support and fans' cheers have helped Japan's national team move forward.
He said he wants the team to keep that in mind and compete with a sense of national pride and responsibility.
Moriyasu said he wants to show everyone the members' strong teamwork and pride in the tournament.
He said his team aims to advance to the quarterfinals or higher, but that the road ahead will be challenging.
The head coach asked supporters and others across the country to come together to root for the squad. He said he hopes his country, with the team, will be able to achieve what it never has before.
Moriyasu said he remembers the shocking time when Japan failed to qualify for the 1994 World Cup in a match in Qatar's capital Doha. He played for the national squad at the time.
But he said he is not seeking revenge, and that he wants to turn the tragedy into delight in Doha.
Moriyasu added that he wants to make the best preparations for the tournament, in hopes of producing results that will bring joy to everyone.