Ruling Parties Aim To Agree Japan Should Have Counterstrike Capabilities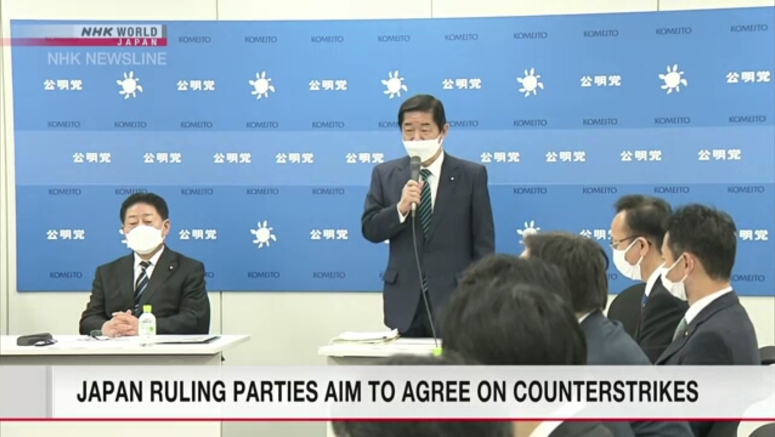 Japan's two governing parties are aiming to reach an agreement that the country should be capable of conducting counterstrikes on missile-launching sites and other enemy targets.
An agreement at the two parties' working-level talks on Friday would mark a major shift in Japan's security policy after the end of World War Two.
The main ruling Liberal Democratic Party has affirmed the need for counterstrike capabilities. Its junior coalition partner, Komeito, on Thursday approved the country's possession of such capabilities.
Whether Japan should be capable of counterstrikes has been the focus in the parties' discussions on how to drastically strengthen the country's defense.
Successive governments have ruled out counterstrike capabilities. But they have also maintained that legal theory would allow such capabilities, covered by the right to self-defense.
The current government appears eager to have counterstrike capabilities written into three key defense documents, which it has been working to revise by the end of the year.
The government and the ruling parties are studying under what circumstances Japan should be allowed to exercise counterstrikes.
One possibility is when another country initiates an armed attack, the same case in which the government can exercise the right to self-defense.
Officials are also considering whether to ensure situations meet the three conditions for exercising the right to self-defense. The conditions include limiting the use of force to the minimum extent necessary.