Japan Battles Looming Energy Crunch With Conservation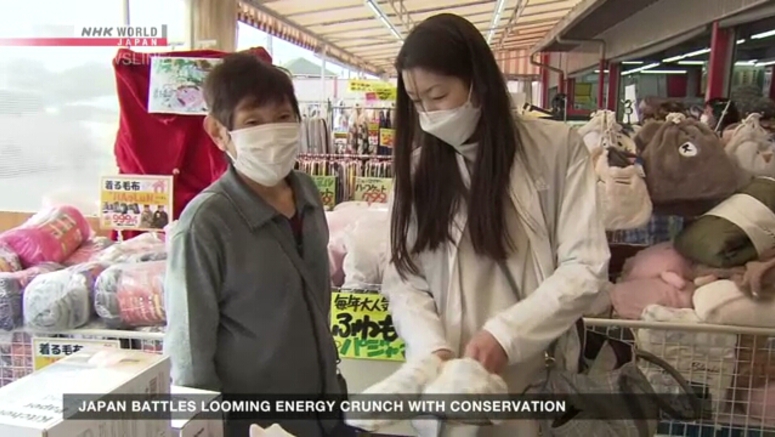 Japan is urging residents to bundle up and power down.
The government expects a major strain on electricity this winter, as countries around the world fight an energy crunch.
Clothing retailers are stocking up on hot commodities like fuzzy housecoats and cozy slippers. They're expected to fly off the shelves once the temperature drops.
"Many customers tell us they want to bring down their electricity bills and use their heaters as little as possible," says Sakamoto Saya, a store manager in Mie prefecture. "We want people to save electricity while enjoying shopping here."
Japan's government is pushing an energy diet through March of 2023. It says power reserves will guarantee a stable supply nationwide. But global instability caused by record inflation, fuel shortages and fighting in Europe presents a wild card.
With Russia poised to further starve the market of liquefied natural gas, many nations are concerned.
"I am personally calling on countries to help Japan secure LNG," says Economy, Trade and Industry Minister, Nishimura Yasutoshi. "We are making efforts to secure a stable supply of electricity."
Some facilities are struggling to cut back, including nursing homes.
They rely heavily on ventilating rooms to prevent the spread of COVID-19, so it takes more power to keep them heated.
Having entire facilities set to the same temperature helps, but can lead to other issues.
"Each elderly resident is different," says one staff member at a nursing home in Aichi prefecture. "A certain temperature may be fine for some people, but others will say they are cold. It's difficult to protect everyone's health."
That's why Japan is focusing on small changes, like turning off computers and printers before leaving work, or throwing on a sweater instead of cranking up the thermostat.
Officials hope people will build these habits before January, when demand is at its highest.