Former Pm Abe Makes Public Apology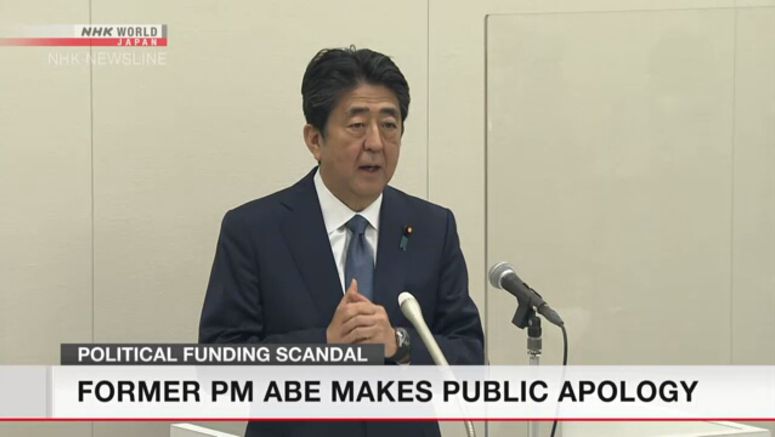 This is a developing story involving Japan's former prime minister Abe Shinzo. A secretary of Abe was indicted for breaking the law on control of political funds.
Abe held a news conference on Thursday. He apologized for the financial issues and for giving misleading answers about them in the Diet.
Abe said, "The accounting was done without my knowledge. I'm keenly aware of my moral responsibility. I'm deeply, deeply remorseful, and I'd like to apologize to the public from the bottom of my heart. I had checked with my office again and again. I gave answers to the best of my knowledge at the time. But ultimately, some of what I said was contrary to the facts. That led the public to lose their trust in politics.
As the person who was the head of government, as the head of the Liberal Democratic Party, who should have taken the lead in making sure political funds were in order and as a parliamentarian who represents the public, I want to make a sincere, sincere apology to the public and to all members of the ruling and opposition parties for bringing about this situation."
Abe was asked whether he might resign from the Diet or leave his party. He dodged the question and said he wants to fulfill his duties.
On Thursday, Tokyo prosecutors brought a summary indictment against one of Abe's secretaries, a man named Haikawa Hiroyuki.
He stands accused of misreporting income and expenditure totaling about 290,000 dollars in connection with parties for Abe supporters.
He was ordered by a summary court in Tokyo to pay a fine of 9,600 dollars. He paid it the same day.
The parties were held before government-funded, cherry-blossom-viewing events while Abe was prime minister. They cost about 220,000 dollars in the five years through 2019. Abe's office is thought to have paid at least a third of that.
On Monday, Abe answered questions from prosecutors on a voluntary basis. He denied involvement in the failure to file sufficiently detailed reports on the funding of the parties.
Prosecutors decided not to indict him. They said they did not have evidence that would allow them to hold him criminally responsible.
Abe plans to offer explanations to committees in the upper and lower houses of the Diet on Friday.