7 Prefectures In Stage 4 Infection Level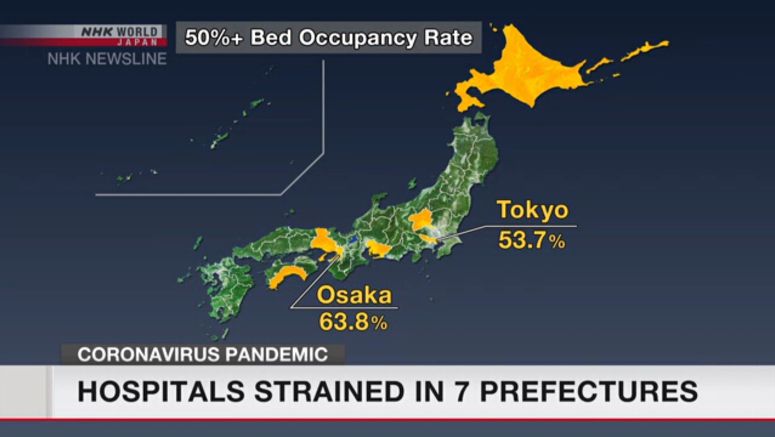 Hospital beds in Japan are filling up as the number of the coronavirus infection cases increases rapidly.
Beds for those who are critically ill are nearing capacity, especially in Tokyo and Osaka.
A health ministry report shows that as of Tuesday, seven prefectures were at Stage 4, the highest of the four-level alert scale.
Stage 4 means that health care systems are at risk of collapsing from an explosive rise in infections, with bed occupancy at 50 percent or higher.
The bed occupancy rate was the highest in Osaka Prefecture at 63.8 percent, followed by Hyogo's 61.9 percent, Gunma's 61.8 percent, 59.5 percent for Kochi, 55.5 percent for Aichi, 53.7 percent for Tokyo, and 51.1 percent for Hokkaido.
The occupancy rate for those who are critically ill was at 68.6 percent in Tokyo, up by 2.2 percentage points in seven days.
Osaka had 64.5 percent, up by 9.2 percentage points.
Twenty-two other prefectures were at Stage 3, in which medical systems face the possibility of major disruptions.