Tokyo Arbitration Body Orders Uber Eats To Negotiate With Deliverers' Union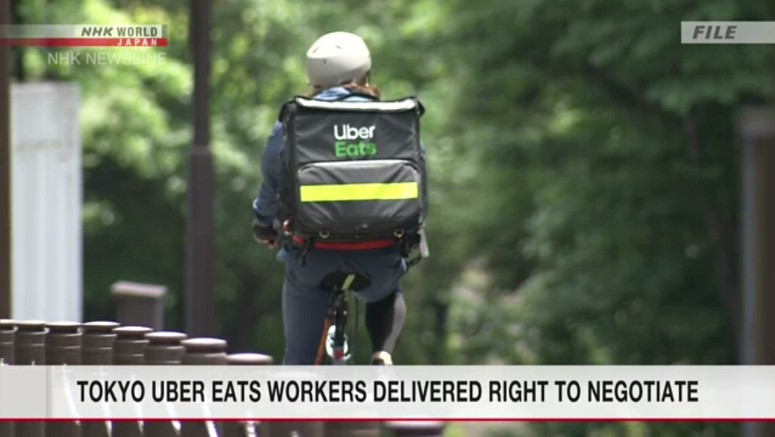 A labor dispute arbitration body of the Tokyo Metropolitan Government has ordered the operator of the food delivery service Uber Eats to negotiate with its deliverers' labor union.
The union formed by some Uber Eats deliverers demanded improvements in working conditions after the operator unilaterally lowered compensation for delivery staff.
The company rejected the demand, saying that deliverers are not considered employees.
The move prompted the union to file a complaint with Tokyo's Labor Relations Commission two years ago.
A main point of contention was whether individuals working through apps provided by Uber Eats can be deemed company workers under the Labor Union Act, in light of their relationship with the operator.
According to a lawyer for the deliverers, the mediation body on Friday announced that the delivery staff are an indispensable labor force for the business. It said that deliverers are free to decide when and where they work, but they are in a broad sense under the operator's direction and supervision.
The commission ruled that the deliverers are considered to be company workers under the Labor Union Act.
The commission says this is the first judgement in Japan to acknowledge the right of deliverers who work using apps such as Uber Eats to form a labor union and negotiate with the platform's operator.
Watanabe Masashi, who heads the Uber Eats Union, told reporters that the commission's decision will empower the union members. He added that the union just wants to hold talks with the Uber Eats side.
The operator of Uber Eats said that the judgement is regrettable as it failed to fully take into account the flexible and independent working style that delivery partners think is important. The company said it will consider its response to the order, and will also continue to listen to the opinions of the deliverers.