Classmate Shares Abductee Yokota Megumi's Story At Their Old School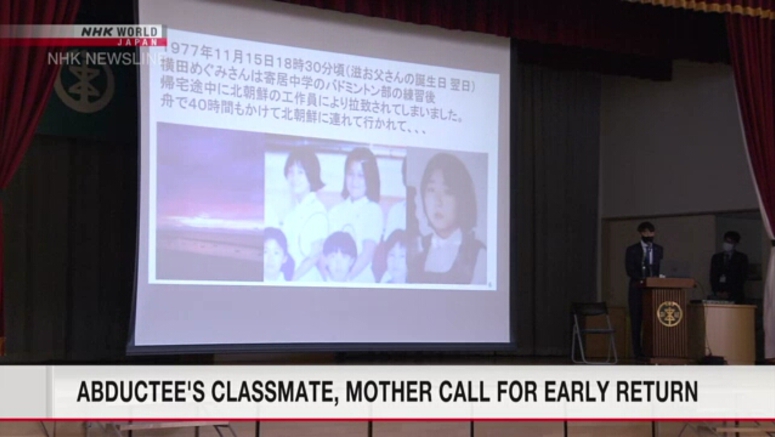 A former classmate of Japanese national Yokota Megumi, who was abducted to North Korea, spoke to students about her on Monday at their alma mater.
North Korean agents kidnapped her on November 15, 1977, while she was on her way home from her junior high school.
Ikeda Masaki was a classmate of hers when they were at an elementary school in Niigata City on the Japan Sea coast.
He addressed all the students at a gathering to teach about the abduction issue.
Ikeda talked about the campaign by her father, Yokota Shigeru, who died in 2020, and her mother, Sakie, to get their daughter back.
He told the students that as a classmate, he longs for Megumi's earliest return.
Ikeda said Megumi's classmates have a responsibility to share stories of Megumi and her mother with as many people as possible. He said he will continue to do so until she returns.
Yokota Sakie, who joined the gathering by phone, said 45 years have passed since the day her daughter was kidnapped. She asked the students to pray with her for Megumi to be returned as soon as possible, along with the other Japanese abducted by North Korea.
Three sixth-graders read out a message that said all the students are waiting for Megumi's return and are ready to welcome her.
A musical piece that Sakie Yokota wrote the lyrics for was played in the hall.