Ex - Unification Church Victims Call For Effective Relief Bill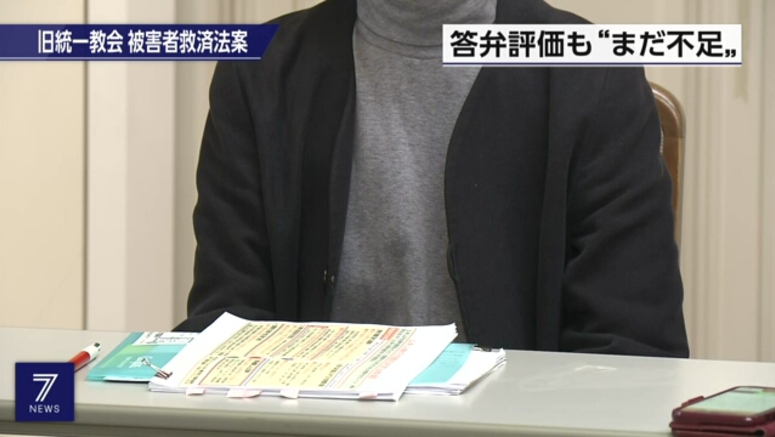 Families of people who donated large sums of money to the religious group previously known as the Unification Church say proposed legislation to help those affected is not enough. They say it should take into account the reality of their suffering.
The Japanese government's planned legislation is aimed at providing relief to victims of the religious group and other entities.
The draft bill bans corporate entities from soliciting donations by fueling anxieties through spiritual knowledge and insisting that contributions are necessary.
It also prohibits corporations from forcing individuals to take out loans or sell their houses to raise money for donations.
The bill requires entities to consider whether their soliciting suppresses individuals' free will or makes it difficult for them to maintain their daily lives.
It also says that entities that engage in the prohibited acts and disobey government guidance and orders to correct their practices will be subject to criminal penalties.
One woman says her mother donated more than 100 million yen, or about 723,000 dollars, to the religious group.
She told reporters on Tuesday she believes that the government's views are deficient. She said the legislation should address the full extent of damage, otherwise it will not be practical.
Hashida Tatsuo says his ex-wife also gave substantial donations to the group. He said he wants a law that lawyers can use to help victims.
Related to the draft bill, Prime Minister Kishida Fumio suggested during Diet deliberations on Tuesday that if someone was forced to sign a document saying they donated voluntarily or if they were filmed while making a donation, it could indicate illegality. He said it could support claims for damages on the grounds of civil law violations.
The prime minister also said people who made donations while disoriented would be able to cancel them within three years from the time they realized that they were unfairly solicited.
Abe Katsuomi is part of a group of lawyers supporting victims of spiritual sales. He said it was significant that Kishida commented on forced signatures of documents stating donations were made voluntarily. He said it should be incorporated into the new legislation.
Abe said the new law should ban entities from suppressing individuals' free will.