Researchers: Efficacy Of Alzheimer's Treatment Drug Confirmed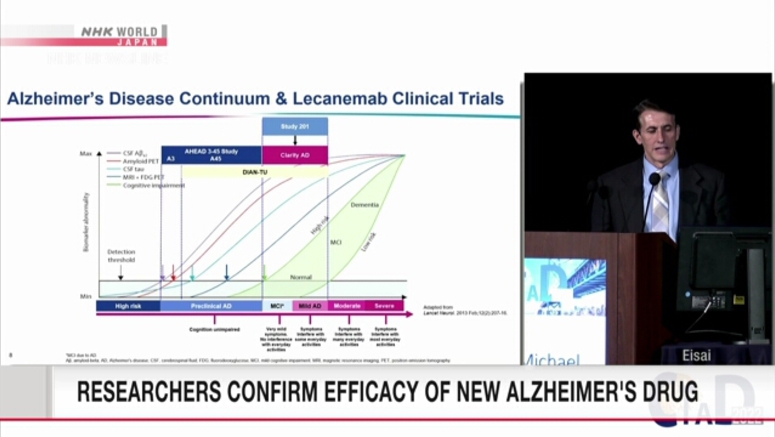 An international research group conducting final-phase clinical trials on a new treatment drug for Alzheimer's disease says it has confirmed the drug's efficacy in slowing the progression of the illness.
The Japanese pharmaceutical company Eisai has been testing the drug lecanemab together with the University of Tokyo, Yale University's School of Medicine and others.
They announced their findings in the New England Journal of Medicine on Tuesday.
The clinical trials targeted about 1,800 early-stage Alzheimer's patients aged 50 to 90. The patients were divided into two groups -- one was administered the new drug and the other was given a placebo.
A comparison of the two groups after 18 months showed that lecanemab reduced the rate of cognitive decline by about 27 percent.
Patients administered the drug also showed a significant decrease in brain deposits of amyloid-beta, an abnormal protein that is said to trigger Alzheimer's disease.
On the other hand, 17.3 percent of those given the drug suffered brain hemorrhages, and 12.6 percent developed brain swelling. Both percentages were higher than those for the placebo group.
The group will continue research to confirm long-term safety of the drug.
Iwatsubo Takeshi, a professor at the University of Tokyo, says the fact that the drug has been found to be effective in slowing cognitive decline is epoch-making.
Eisai plans to apply for approval of the drug with regulators in the United States, Japan and the European Union by the end of March next year.