Subsidy Travel Campaign In The Spotlight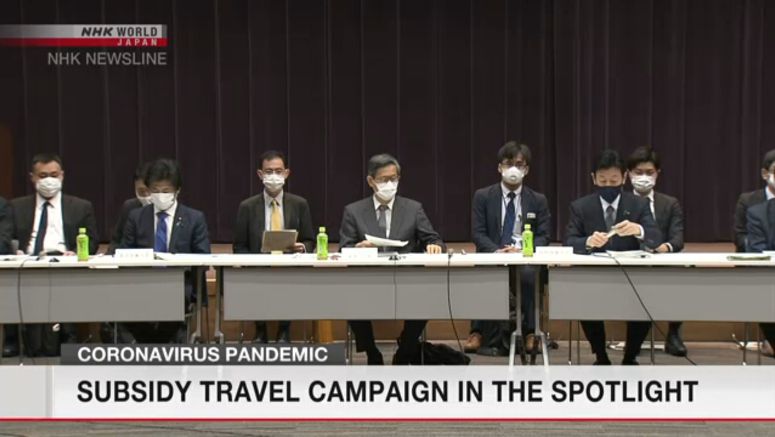 Japanese authorities and experts are preparing for the next steps in the fight against the coronavirus as a crucial three-week period draws to a close. The panel of experts are calling on the government to stop giving a subsidy to travel to areas where cases are rising.
The experts met on Friday, just a few days out from the end of what they had called a critical three weeks. One of the agenda items was the government's domestic travel campaign which has been in place to support the pandemic-battered economy.
The government panel head Omi Shigeru said, "The advisory panel wants the travel campaign to be halted in stage-three areas. In other words, people should avoid crossing prefectural borders."
The stage-three designation means infections are spreading rapidly in the region. Omi says the panel believes Tokyo, Osaka and Hokkaido are in this stage. Major cities in Hokkaido, as well as in Osaka, have already been excluded from the program.
Economic Revitalization Minister Nishimura Yasutoshi said, "The exclusion of the two cities is to last until Tuesday. But I understand Governor Suzuki of Hokkaido and Governor Yoshimura of Osaka are considering extending it."
Experts are also urging the government to think of new measures that can be implemented, and have three plans ready depending on the situation.
One approach could be calling on restaurants and bars to further shorten business hours if cases continue to rise in certain areas. The experts are also advising that the government ask residents to refrain from non-essential outings.
Health authorities across Japan reported nearly 2,800 new cases on Friday. That brings the overall total to about 176,000. More than 2,500 people have died since the pandemic began.
Meanwhile, health ministry officials say they have signed a final contract with the British drug company AstraZeneca to receive its vaccine pending successful development.
Japan will receive enough doses for 60 million people next year, with the first quarter of them arriving by the end of March. The vaccine requires two doses for each recipient.
The ministry has already signed a contract with the US pharmaceutical company Moderna to receive enough doses to treat 25 million people by September.
It also has a basic agreement with US drug firm Pfizer to obtain a supply for 60 million people by the end of June.