Paul Walker's Nissan 370z From Fast & Furious Becomes The Most Expensive 370z Ever Sold In Auction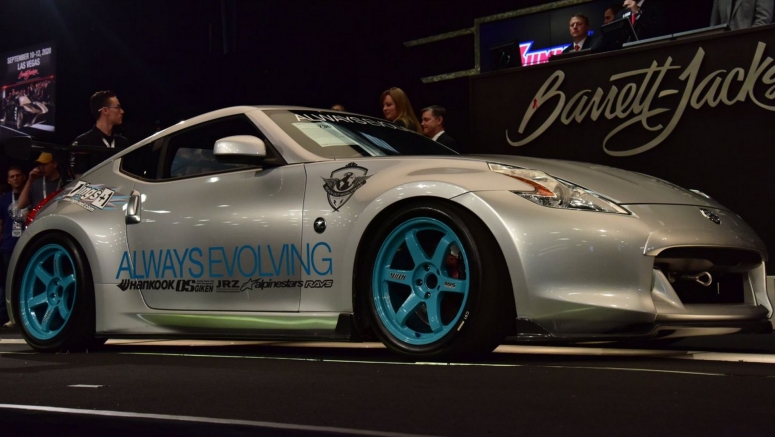 If you think about it, it's not that surprising that a Nissan 370Z that was previously owned by Paul Walker and made an appearance in the fifth installment of the Fast and Furious movies became the most expensive 370Z sold ever in an auction.
The 2009 Nissan 370Z in question was sold for $105,600 at the recent 2020 Barrett-Jackson Scottsdale auction. In its movie appearance, it was wearing a different body kit, black wheels and a carbon bonnet and was driven by Gal Gadot's character.
Related: 21 Vehicles From The Late Paul Walker's Collection Heading To Auction
The Fast Five Nissan 370Z was also made to look like it had a turbo kit, featuring a fake intercooler behind its bumper and the mandatory NOS bottles behind the seats. Sounds a little disappointing but that's the way of creating a movie car.
Mechanically, the Japanese coupe remains stock, meaning a naturally aspirated 3.7-liter V6 engine producing 332 HP and paired to a six-speed manual transmission. The cabin retains the aftermarket removable steering wheel it used for the film but it features a different full racing bucket seat for the driver.
Depending on which side of the fence you're on, this Nissan 370Z is either not worth the $100k at all or it's one of the cheapest ways to get yourself not only a screen-used movie car from Fast and Furious, but a car owned by one of its main stars too.
Back in 2015, one of the iconic orange MK4 Supras driven by Paul Walker in the original Fast and Furious was sold at an auction for $185,000. That car was fitted with the naturally aspirated 3.0-liter six-cylinder engine and not the turbo one, given that MK4 Supra prices have skyrocketed since then, especially the unmolested manual examples.
Photo
Gallery