Dj Sumirock, At 83, Still Lights Up The Club Scene In Kabukicho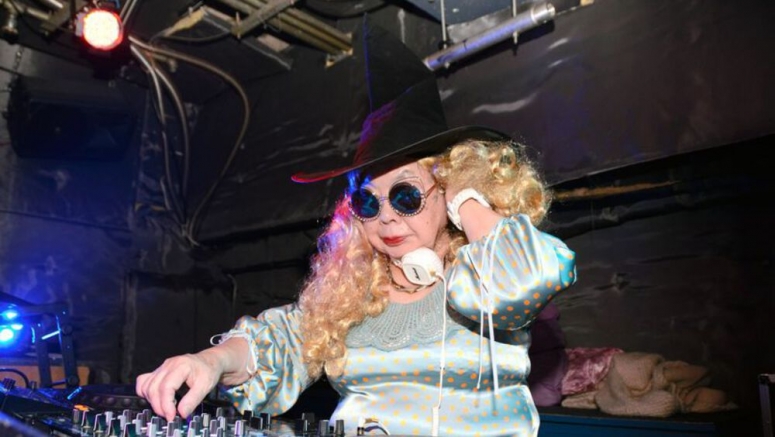 After making gyoza dumplings at a Chinese restaurant, an 83-year-old woman heads to Tokyo's Kabukicho red-light district where she dons a long, curly blond wig, witch's hat and sunglasses.
She then whips a nightclub crowd into a frenzy.
Sumiko Iwamuro, also known as DJ SumiRock, graces the DJ booth at DecaBarZ and blares out pieces of techno, rock, classical, jazz and chanson music stitched together.
Shortly after 1 a.m., with the booming bass thumping away, female dancers swing their hips on a stage under colorful light beams. A crowd of foreign guests on the floor sway their bodies while holding bottles of booze in their hands.
"She is a genuine DJ who creates waves of music in response to dancers and other people at the club, changing the tempo of her tune selection while reading the shifting mood of the crowd," said Adrien Le Danois, 38, the French owner of the club.
Iwamuro has been recognized as "the world's oldest professional club DJ" by Guinness World Records.
The world record certificate adorns the wall of Gyoza-so Muro, a popular Chinese restaurant that Iwamuro owns in the Takadanobaba district of Shinjuku Ward.
Iwamuro's main job is at Gyoza-so Muro, which has been in business for 64 years. But she has a regular DJ slot at DecaBarZ about twice a month.
Iwamuro's younger brother, Masashi, and his wife also work at the Chinese restaurant.
"My sister's energy is just awesome," Masashi said.
GUTSY AND BRIMMING WITH ENERGY
At the age of 77, Iwamuro debuted as DJ SumiRock. Her moniker combines "Sumi" from her first name and "iwa," which means "rock," from her family name.
Le Danois, who had worked part time at Gyoza-so Muro, asked Iwamuro if she wanted to try her hand at DJing.
She immediately replied that it "sounded fun."
"I have the guts," she said.
Iwamuro attended a DJ school filled with young people once a week. She learned how to operate the equipment and match sounds while mastering the manners and other skills required to become a DJ.
She bought equipment and practiced at home before DecaBarZ opened at dusk.
To expand her selection, Iwamuro visits CD shops and listens to a wide variety of music, from jazz and classic to chanson.
She also draws similarities between making gyoza and DJing: The two jobs involve moving both hands simultaneously and getting an immediate response from customers.
"Nothing makes me happier than the moment when my music selection makes people dance and happy," Iwamuro said. "I've already decided where to die: the DJ booth or the kitchen at my Chinese restaurant."
Word spread around the world about DJ SumiRock through social networking sites. She has been invited to music events in New Zealand, France and other countries.
Music runs in the family of the octogenarian DJ.
Iwamuro's father, Tanoshi, was a professional jazz drummer.
During World War II, jazz was deemed "hostile music" and banned in Japan. As a child, Iwamuro would listen to jazz numbers softly emanating from a gramophone that was covered with a "zabuton" cushion to reduce the sound.
It was her favorite time shared with her father.
In the closing days of the war, Iwamuro's house in Tokyo was destroyed in an air raid.
After the war, Tanoshi opened a Chinese restaurant that constantly played a radio program for U.S. military forces. Iwamuro helped her father at the restaurant while various genres of Western music played in the background.
"I cannot live without music," she said.
Since her husband died about 25 years ago, Iwamuro has rarely, if ever, backed down from a challenge.
She obtained her driver's license, traveled overseas by herself and started cello and oil painting lessons for fun. And then there was DJing.
She plans to take private DJing lessons at home in hopes of achieving her long-held aspiration of working as DJ SumiRock in a club in New York.
"Age doesn't matter when you do what you like," Iwamuro said. "If you don't even give it a try, then nothing's gonna start."