Tesla Model X Cut In Two After Nissan Gt - R Slams Into It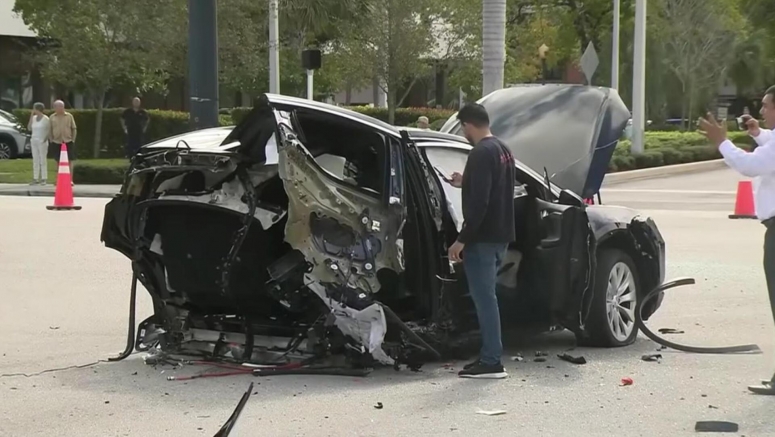 A freak accident happened in Hallandale Beach, Florida on Monday when a Nissan GT-R reportedly ran a red light and slammed into a Tesla Model X, effectively cutting the EV in two.
Yes, you read that right: the electric crossover was left without the entire rear section behind the second-row seats. You can imagine the speed the Nissan was carrying for something like this to happen. What makes this so dumbfounding is the fact the accident took place within city limits, at the intersection of Hallandale Beach Boulevard and Three Islands Boulevard.
Eyewitnesses recall seeing the white Nissan GT-R running through a red light before smashing into the rear section of the Tesla Model X.
Watch Also: Off-Duty And Drunk NYPD Officer Driving Nissan GT-R Hits Mazda6, Killing One
The driver and the passenger in the Nissan were transported to the hospital – the driver with minor injuries and his girlfriend as a trauma patient. Both are expected to recover.
Amazingly, the Tesla driver emerged with only a minor injury to one leg from the crash that split his car in two. Identified as Jose Diaz, he was seen as making the sign of the cross moments after the crash. The man told Miami's WSVN 7News the Nissan came so fast that he didn't even see it and that he just felt the bang.
While the Nissan GT-R's suffered extensive front end damage and the Tesla Model X got split in two, they weren't the only cars involved in the crash. The back of the Tesla ricocheted into a red Ford Mustang and then into a VW Golf. It was a miracle the debris didn't hit nearby pedestrians.
Внимание, сейчас на Hallandale на против Walmart произошла авария. Движение затруднено!
Posted by Ilya Freyberg on Monday, January 20, 2020