This Lifted, Awd, Subaru Wrx - Powered Mazda Mx - 5 Miata Is A Go - Anywhere Machine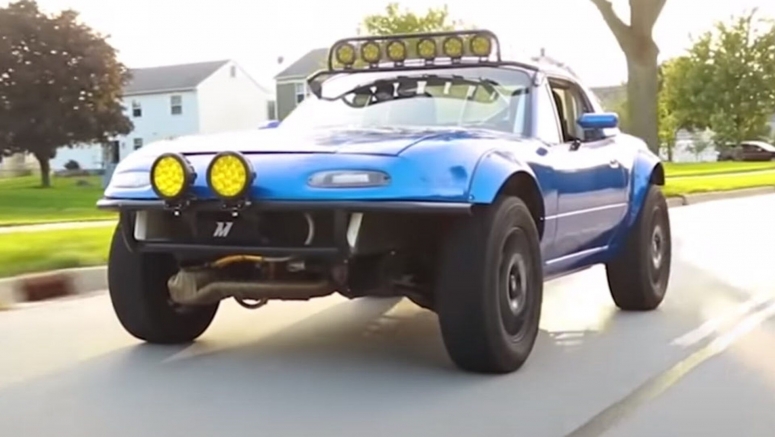 The Mazda MX-5 Miata is known as an affordable sports car that's just as home in the city, on a racetrack and a twisting mountain pass. Despite the car's exceptional credentials, the owner of a first-gen example in the United States decided to make his car unlike any other.
We first discovered this Miata build back in April when it was in its final stages of construction. Fast forward to December and the car has been finished, with a 10-minute video detailing the build process.
Read More: Behold The Subaru WRX-Powered Mazda MX-5 Miata AWD Off-Roader
After the owner pulled out the standard engine, work began on overhauling the roadster's chassis. This initially involved the construction of a complete rollcage. After that, the entire engine bay was cut away, leaving the Mazda without a front end. Thus, work began on creating a bespoke front end made up of tubular steel welded together and made exceptionally strong.
With the custom engine bay fitted, the Miata received the EJ205 2.0-liter turbocharged boxer engine from a 2002-2003 Subaru WRX. A Subaru all-wheel drive system and a long-travel suspension were also fitted to ensure the car could deal with difficult off-road terrain. Various modifications were made to the engine, including the fitment of a larger turbocharger, an aftermarket clutch, a new intercooler, rear-mounted radiator, and a custom fuel system.
After painting the car and re-installing the interior, it was taken to the dyno where it pumped out an impressive 360 hp and 360 lb-ft (488 Nm) of torque at all four wheels.