2021 Nissan Rogue First Drive | What's New, Specs, Photos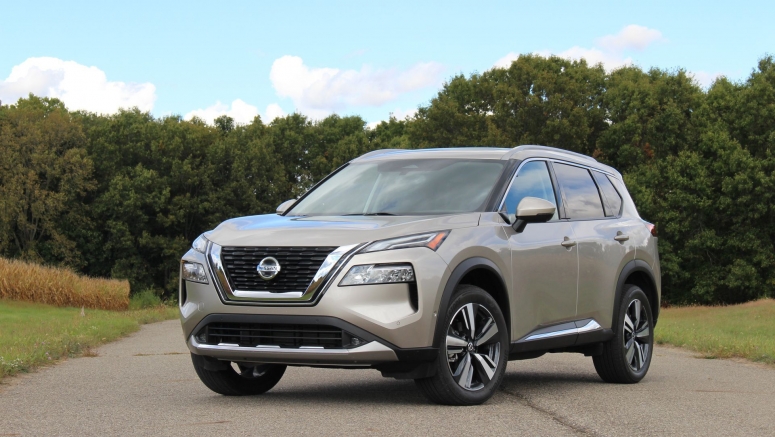 "Why do so many people buy the Nissan Rogue?" It's something we ponder and lament every time we see it on a top 10 list of best-selling cars. We're not alone. Perhaps it's because its styling, size and interior quality made a good first impression at a dealer, but the more you drove it, the worse it got. "Dreary" is a word that comes to mind. With the all-new 2021 Rogue, Nissan is aiming to change the story, and after a couple hours of driving it on a chilly fall day in Michigan, we think Nissan has done exactly that.
But first, to properly add perspective, back to its predecessor. The steering was a mess; the handling ponderous and the ride hardly special; its droning continuously variable transmission was unresponsive, and the annoyingly buzzy engine was woefully underpowered even in a segment where power is a low priority. Nissan responded with a clean-sheet redesign underpinned by a totally new platform not currently shared with another Nissan. It uses more aluminum and ultra-high-strength steel than the outgoing model, contributing to less weight and higher chassis rigidity.
Nissan designed a new multi-link rear suspension to replace the trailing arm design, popped in new dual-piston dampers and put together a new rack-mounted electric power steering system to provide more feel than what the old column-mounted system managed (virtually none). All of the above translates into a crossover that rides and handles significantly better than the previous Rogue. The new quick-ratio steering is immediately noticeable with turn-in that verges on alarmingly quick for a family crossover. It makes the Rogue feel more agile and lively, but the lack of feel and vague, light connection between road and driver remains an issue. Most Rogue owners will simply be surprised when they dial in way too much lock in corners during the first week of driving.
The engine is still a total bore, but it is better. Shared with the Altima, the 2.5-liter inline-four has approximately 80% new parts versus the outgoing engine. It makes 181 horsepower and 181 pound-feet of torque, increases of 11 and 6, respectively, that bring the Rogue closer to average for the segment. Nissan mates it to the same CVT as before, but it's running a new tune. Its enhanced software makes the Rogue quicker to react to pedal prodding, but acceleration remains achingly slow. Noise from the engine bay into the cabin is down, which makes full-throttle applications and sedate around-town driving easier on the ears. If wind noise were tamped down a smidge more, it would make for an even more premium drive.
Photo
Gallery