Rank - And - File Wrestler Wins Sumo Tournament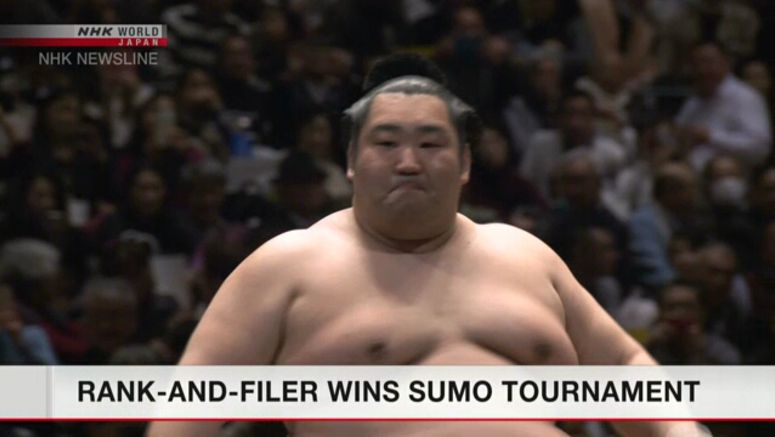 In the New Year Grand Sumo Tournament, a wrestler at the bottom of the rankings in the top Makuuchi Division has won the Emperor's Cup.
Tokushoryu beat Ozeki Takakeisho on the final day of the tournament on Sunday, clinching the title with 14 wins and one loss.
Tokushoryu was tied with another rank-and-filer, Shodai, until the 14th day, when Tokushoryu beat Shodai.
This is the first tournament victory for a bottom-ranked wrestler in 20 years.
At the age of 33 years and five months, Tokushoryu is the third-oldest wrestler to win a first tournament title since 1958.
The two Yokozuna grand champions dropped out in the early stages of the tournament.
Tokushoryu said in an interview during the ceremony that he wonders if he really deserves the title, but he is glad to have good news to tell people in his native Nara Prefecture.
Asked whether he had thought about the possibility of winning the title during the tournament, he replied that he hadn't. But he immediately added that wasn't true and joked that he actually practiced what to say in the interview.
Tokushoryu said he will try to bear in mind that he is still only 33, and he wants to go as far as he can.