Judoist Hit By Self - Driving Car Out Of Games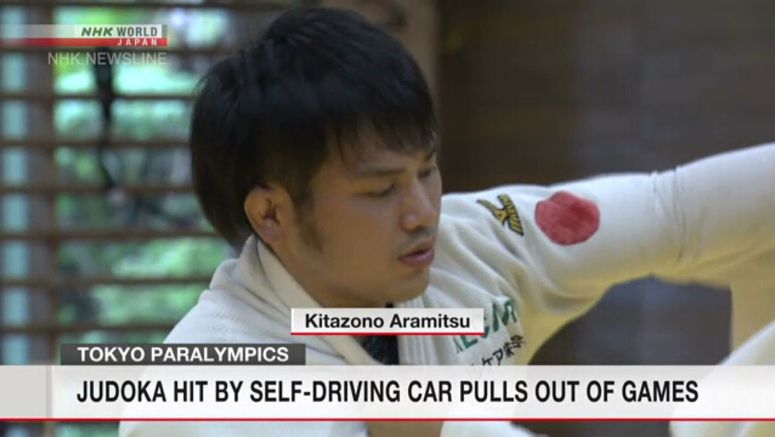 A Japanese Paralympian with visual impairment has been forced to withdraw from the Games after being hit by a self-driving vehicle inside the athletes' village in Tokyo.
The accident left judoist Kitazono Aramitsu with injuries to his head and legs.
Police say Kitazono was struck on Thursday afternoon while crossing a pedestrian crosswalk. They say he was treated at a clinic inside the village and that his injuries will take two weeks to heal.
Kitazono was due to compete in the 81-kilogram class in the men's Para judo. He was forced to withdraw from a match scheduled for Saturday.
The chief of the organizing committee's main operation center, Nakamura Hidemasa, told reporters on Saturday that he had offered an apology to the judoist and said that the committee should have contacted the media sooner.
Japanese Paralympic Committee Vice President Takahashi Hidefumi said that no irregularities were found when Kitazono underwent a brain scan, but that the athlete had lost his appetite.
None of the seven people on board the electric shuttle bus was injured.
The Toyota vehicle is part of a fleet being used to transport athletes and Paralympic officials around the village.
Toyota Motor President Toyoda Akio posted an apology on the company's website.
He said self-driving vehicles have struggled to cope with the special environment of the Paralympics, which includes people who can't see and those with other impairments.
In other Paralympic news, officials have decided to redo the women's 50-meter freestyle final on Sunday for the class of athletes with the most severe visual impairment.
The International Paralympic Committee responded to a protest after Friday's race. It said two swimmers touched, but without intention.
All race results, including a world record, were nullified.