Japanese Dessert Trends You Should Know About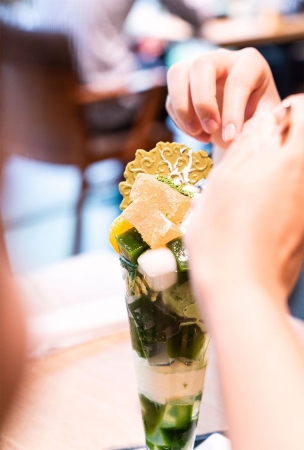 The bubble tea craze has taken Japan by storm — so much so that it was even
one of the symbols featured by a doll maker in Tokyo
who represented Japan's trending topics through ornate hina dolls. It comes as no surprise, then, that tapioca was named the country's Dish of the Year in 2019.
But while bubble tea might be in every street corner in Japan today, it didn't exactly originate in Japan, but in Taiwan. Despite this, there's no shortage of food trends that the Japanese can take credit for. So if you're looking for other treats aside from bubble tea, these are some of the home-grown Japanese food trends you need to try:
Matcha desserts
Tea is not the only way to consume matcha. In fact, matcha lovers everywhere are spoiled for choice when it comes to matcha-flavored food. It tastes even better in dessert form! You can enjoy the health benefits while indulging your craving for sweet treats.
Tokyo is the best place to start in your search for the best matcha desserts.
There's Saryo Tsujiri near Tokyo Station
, a tea house that specializes in a delicious matcha parfait. Other ways to beat the heat are through a decadent matcha gelato from Nanaya and green tea shaved ice from Shimokita Chaen. For a breakfast option, try Urth Caffe's matcha pancake dripping in velvety matcha sauce.
Hojicha desserts
Compared to the fast-paced and high-tech Tokyo, Kyoto moves a little bit slower.
ExpatBets' guide to living in Japan
highlights that the city has the perfect mix of tradition and modernity, and you can see this even in the way food is prepared. One ingredient that is traditionally from Kyoto is hojicha tea.
It's More Than Tea's article on hojicha
explains that it's any type of Japanese green tea that's been roasted. This gives it a 'toasty' flavor profile and a dark brown color.
Hojicha desserts are a trend in the making. Today, there's limited edition hojicha Kit Kats that one can only get in Kyoto. It has a delicious nutty flavor that you won't be able to stop nibbling on. People are also starting to experiment with cakes, lattes, and ice cream infused with hojicha tea. So watch out for what might be the next new matcha!
Mochi Puffs
Mochi puffs are a mish-mash of two dessert favorites: the traditional Japanese mochi and the American cheese puff. These come in many different forms — deep-fried, baked, and filled with egg custard, to name a few.
However, Hokkaido's version is one of the best because it's covered in milk powder. This is no surprise, given that most of Japan's dairy products come from Hokkaido. So if you ever find yourself in the northern side of Japan, don't miss out on delicious dairy-based desserts!
Souffle pancakes
No Japanese food trend list is complete without mentioning souffle pancakes.
Flipper's is the place to go
if you want to have your fill of these world-famous jiggly and fluffy pancakes. Top it with simple maple syrup or pile on fruits, whipped cream, and nuts — they'll still turn out delicious. Regular pancakes don't stack up in terms of the fluffiness and airiness that souffle pancakes are known for.
Shibuya toast
Most cultures have their own recipe for toast. Singapore has the popular kaya toast, while the West is obsessed with grilled cheese and more recently, avocado toast. If you come to Japan, toast is more of a dessert than breakfast food, and the best way to have it is with a Shibuya Toast. Tea shops and cafés serve it everywhere. It's a hollowed-out chunk of bread filled with fruits, nuts, chocolate — whatever your heart desires! And the best part? The caramelized baked bread cubes is drizzled with a generous serving of honey.
Add all of these to your list of must-try foods on your next visit to Japan — you surely won't be disappointed.