Sights, Sounds Of Showa Era Greet Visitors To Fukui Culture Museum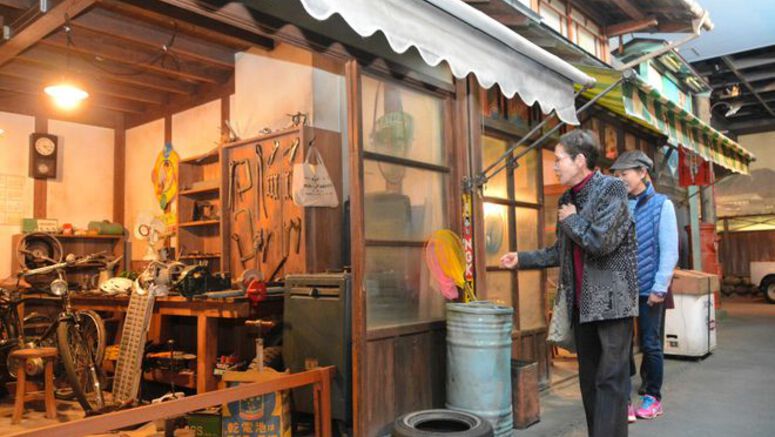 FUKUI--A permanent exhibition at the Fukui Prefectural Museum of Cultural History here allows visitors to travel back to the Showa Era (1926-1989) to see how people's lives were beginning to change at the time.
"Life in the Showa Period" features items and scenes from the period during which Japan achieved rapid economic growth after its defeat in World War II.
Visitors are transported to the years between 1955 and 1974 when people's lives changed dramatically.
The exhibition was added to the museum's permanent offerings in 2003 when the facility was remodeled. Officials organized the contents with the aim of making visitors interested in generations before theirs by having them feel that their generation will also someday become a part of history.
The officials said they took particular care in ensuring the accuracy of the displays. For a section where a reproduction of a farmhouse from the late 1960s is set up, the officials actually measured a building that once stood in the city.
The structure features architectural characteristics of traditional farmhouses still found in northern Fukui Prefecture, including an exterior wall painted with a reddish-brown pigment called "bengara," or red iron oxide, and a foundation made of Shakudani-ishi stones produced in the city.
Meanwhile, a structure made with building materials that came into use in or after 1965, such as galvanized plates and aluminum sashes, was reproduced in another section.
In another area themed on a classic shopping street, there are replicas of a candy shop, an auto repair shop and an eatery from the early 1960s standing side by side. These shops were also modeled after those that had actually operated in the prefecture. A menu on the wall in the restaurant lists a plate of curry rice for 120 yen ($1.08) and a bowl of "oroshi soba" cold noodles for 30 yen.
Other exhibits include appliances such as a washing machine, a TV set, magazines, containers for drinks and other miscellaneous daily goods from the Showa Era.
A signature bugle call of a street tofu vendor and the sound of a wind blowing through the venue serve as background music, providing a nostalgic atmosphere.
It might be interesting for young visitors born in the Heisei Era (1989-present) to imagine how their lives would have been had they been born in the Showa Era.
The Fukui Prefectural Museum of Cultural History is open from 9 a.m. to 5 p.m. and closed on the second and fourth Wednesdays. Other permanent exhibitions include the "History Zone," which is themed on rail transportation in Fukui and everyday items used during wartime, and the Museum Theater that screens newsreels and other footage from the 1945-1964 period.
Admission is 100 yen for adults and free for senior high school students and younger children and those aged 70 years or older.
Visit the official website at (http://www.pref.fukui.jp/muse/Cul-Hist/index.html).