Japan To Suspend Travel Campaign Nationwide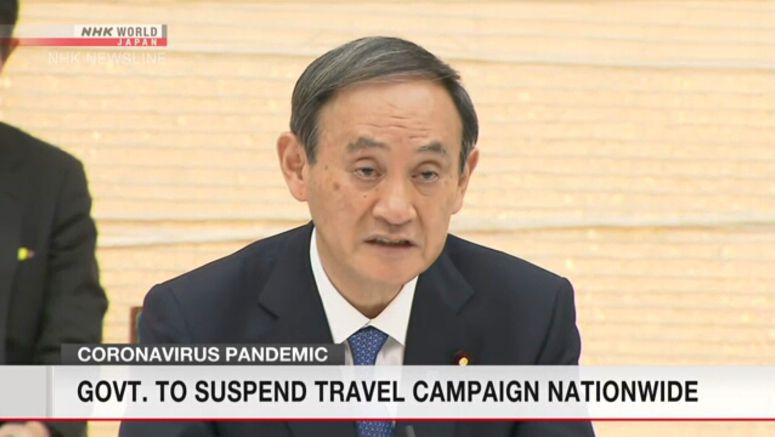 Prime Minister Suga Yoshihide has announced that the government will temporarily suspend its "Go To Travel" campaign across the country from December 28 to January 11. The move is aimed at containing the spread of coronavirus infections during the year-end and New Year holidays.
Suga made the announcement at a government taskforce meeting on Monday evening.
The meeting was convened in response to calls by the coronavirus advisory panel that advised authorities to continue measures to exclude certain areas from the tourism campaign.
Suga pointed out that the number of infections continues to rise nationwide.
He said various indexes suggest that more regions are seeing a surge in new infection cases.
The prime minister also said that those who are tackling the outbreak on the front lines, such as medical workers, are becoming more burdened.
He stressed that the government will take maximum measures to ensure a good start to the New Year by preventing the further spread of the virus and reducing the burden on medical institutions.
He also disclosed plans to halt subsidies for travel to Tokyo and Nagoya until December 27, and to call on residents of those cities to refrain from traveling. Osaka and Sapporo had already been excluded from that program due to rising infections there.