Self - Repairing Ceramic Eyed For Aircraft Engines, Shinkansen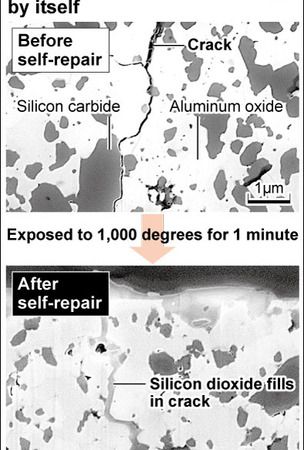 Japanese researchers say they have developed a ceramic material that self-repairs cracks in just a minute and could drastically change manufacturing methods for the transportation industry.
The team from the National Institute for Materials Science (NIMS) and Yokohama National University said the material could be used in plane engines to keep them operating even if they are damaged in collisions with airborne objects.
"When the plane engine suffers a crack during a flight, the ceramic material will enable the aircraft to repair the damage by itself before landing without stopping the engine," said Toshio Osada, a senior researcher at the NIMS.
Wataru Nakao, an engineering professor at the university, said the material "can be used for a wide variety of products," and the team is planning studies to commercialize the ceramic.
Ceramics are lighter and more heat-resistant than nickel and titanium.
Ceramic-made engines had been seen as a possible way to significantly improve fuel-efficiency, but the material was considered too fragile for use in aircraft engines.
To solve the problem, the university added silicon carbide to a ceramic material made of aluminum oxide. When the ceramic cracked at high temperatures, the silicon carbide was exposed to air and turned into silicon dioxide that filled in the crack and repaired the damage.
The self-healing process initially required nearly 1,000 hours to complete.
The NIMS later reduced the time to one minute under temperatures of 1,000 degrees by adding a tiny amount of manganese oxide.
When silicon dioxide fills in the cracks, it reacts with the surrounding aluminum oxide and temporarily turns into a liquid-like substance. The manganese oxide promotes the phenomenon, according to the researchers.
The scientists said they are working on improvements so that the material can repair damage even at lower temperatures, making it possible for use in the undercarriages of Shinkansen. The bullet trains could continue running with cracked undercarriages because the material would fix the damage, they said.