Daihatsu Spreads Joy With Carnival Of Cute Concepts For (virtual) 2021 Tokyo Auto Salon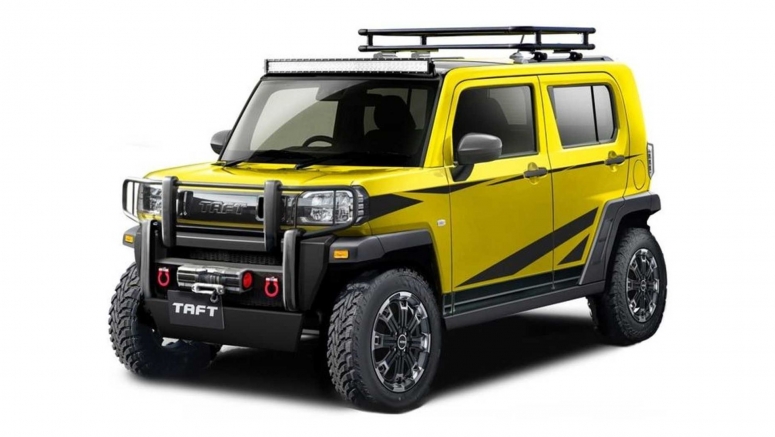 Eat your heart out McLaren Elva, you've got some competition from the Daihatsu Hijet Truck Sportza Ver. Just one of Daihatsu's adorable customs being built for the virtual 2021 Tokyo Auto Salon. The show cars are part of what the brand calls the Daihatsu Village Colorful Carnival and includes 5 customs in all.  
The first is the Hijet Truck Sportza Ver. The vehicle starts out as a Hijet commercial pickup truck. Daihatsu, though, has chopped off the roof to cash in on the current vogue for roadsters.
Read: 2021 Tokyo Auto Salon Cancelled Due To Global Pandemic
Along with a short windshield and an aggressive, sporty front fascia, the Sportza features red alloys that match the racing seats and side-exit exhausts. Daihatsu has not yet revealed if they've messed with the engine, which would normally make around 50 hp. It is offered with a 5-speed manual, though, so it should appeal to the save-the-manual crowd.
Speaking of roadsters, the company's next concept is the Copen Spyder Ver. A little less silly than the Hijet, the Copen actually looks like a lot of fun. Its go-kart proportions are only improved by the chopped windshield.
The Copen already has performance bona-fides–if we were inclined to hand those out generously–thanks to the Copen GR Sport. That model features BBS wheels, a Momo steering wheel, and a specially tuned suspension, and a 660 cc three-cylinder engine that makes a whopping 63 hp.
Read Also: This Elva Celebrates Bruce McLaren's Iconic M1A From 1964
But if enthusiastic driving isn't your motorsport, you can also go off-roading with the Taft Crossfield Ver. Turns out that this off-roader isn't named after the 27th American president but instead stands for "Tough & Almighty Fun Tool."
This version appears to have been lifted, given a roof rack, bumper guards, tow hooks, and some chunky off-road rubber.
If you're more of a fan of overlanding than off-roading, there's another Hijet truck that might be up your alley. The Camper Ver adds a friendly face, a huge roof-rack, and what appears to be a tent to the back of the Hijet truck.
It also features a lovely robin's egg blue on cream color combo, that extends to the wheels. It looks like it would fit right in at a tiny version of Jeep's Easter Safari.
And, finally, there's the Thor Premium Ver with D-Sport. Looking like a two-tone Scion, this van will no doubt impress the dub crowd, if they still exist. The regular Thor comes with an appropriately impressive 100 hp hooked up to a CVT transmission for all of your highway needs.
Unfortunately, details are still scant. We imagine Daihatsu will reveal more when the Tokyo Auto Salon rolls around in January. The show is being conducted entirely virtually this year as a result of the ongoing pandemic. The show will take place on January 15.
Photo
Gallery