Toyota Camry Trd And Honda Accord Try To Take Down The Civic Type R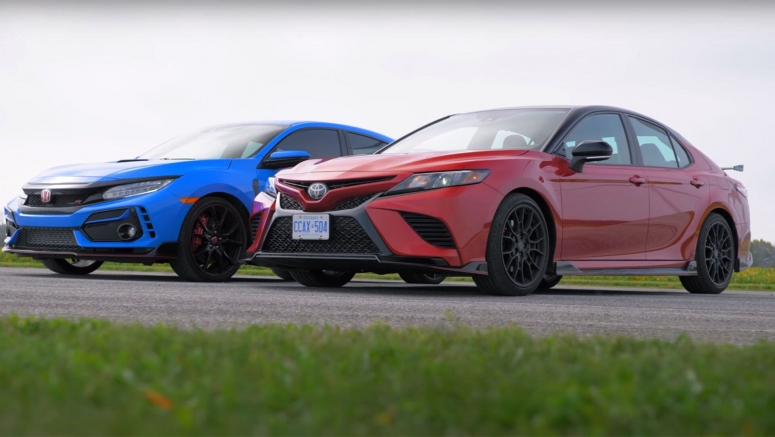 The Honda Civic Type R and Toyota Camry TRD are not rivals by any stretch of the imagination, yet they have one thing in common: they both happen to cost around 40 grand.
Eager to see how they perform against each other, Throttle House gathered the duo together for a series of straight-line tests. Moreover, they brought along a surprise contender in the form of a Honda Accord 2.0T Touring.
On paper, the Civic Type R and Camry TRD match up surprisingly well. Whereas the Honda features a 2.0-liter turbocharged four-cylinder engine producing 315 hp and 295 lb-ft (400 Nm) of torque, the Camry has a 3.5-liter naturally aspirated V6 with 301 hp and 267 lb-ft (362 Nm) of torque. Both are front-wheel drive, but whereas the Honda has a six-speed manual, the Camry TRD has an eight-speed automatic.
Read Also: 2020 Toyota Avalon And Camry TRD Pack 301HP And A Track-Tuned Suspension
In a straight line, it was much easier to launch the Toyota as the Honda suffered from quite a bit of wheel spin. However, once the Civic Type R got going, it was able to easily pass the Camry and leave it for dead.
In the rolling drag race, the Honda again took victory, but things were a little bit closer.
With the Toyota soundly defeated, the reviewers brought out a Honda Accord 2.0T Touring to see how it would perform against the Civic Type R. The Accord is powered by a detuned version of the Civic's engine and delivers 252 hp and 273 lb-ft (370 Nm) of torque. Nevertheless, while it has roughly 50 hp less than the Toyota, it actually challenged the Civic much more than you'd have thought by reading the spec sheets.