Sdf Nurses Sent To Osaka To Help With Virus Surge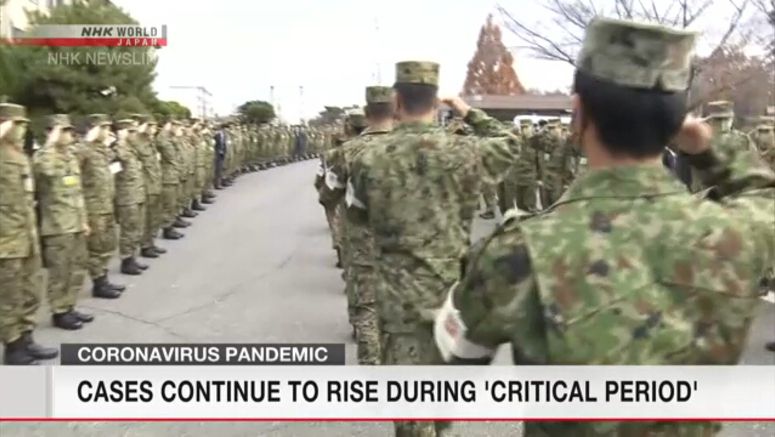 Seven nurses from Japan's Ground Self-Defense Force are being sent to two medical centers in Osaka Prefecture to help deal with a surge in coronavirus infections at the request of the prefectural government.
A departure ceremony was held on Monday at Camp Itami of the GSDF's Middle Army in Itami City in Hyogo Prefecture.
At the ceremony, a female nurse pledged that they will do their best to provide medical assistance to Osaka Prefecture. Middle Army Director General Nozawa Shin offered words of encouragement to the nurses.
Three nurses will work at a new medical center set up exclusively to handle patients with severe COVID-19 symptoms. It will begin operations on Tuesday. They include a nurse and an assistant nurse from the National Defense Medical College, who are trained to work in intensive care.
The remaining four will be sent to Osaka Prefectural Nakakawachi Emergency and Critical Care Center.
The seven personnel appeared in public but their identities were withheld to protect them and their families from possible slander or discrimination related to the virus.
After arriving in Osaka on Monday, they will work from Tuesday to December 28.