Coronavirus Panel Discusses Travel Campaign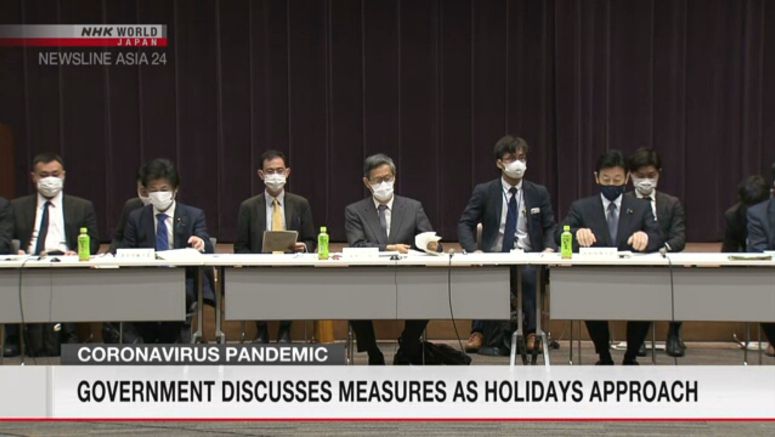 Japan's coronavirus advisory panel has discussed the government's travel campaign and how people should spend the year-end and New Year holidays amid the spike of infections in the country.
The panel met for three hours on Friday morning. Those taking part included Nishimura Yasutoshi, the minister in charge of the coronavirus response, and health minister Tamura Norihisa.
At the start of the meeting, Nishimura said the current situation requires the utmost caution, as the country's daily coronavirus cases continue to reach record levels.
He said high numbers of cases are being confirmed every day, especially in Hokkaido, the Tokyo metropolitan area and the Kansai and Chubu regions.
He added that infections are also spreading in areas that have so far been spared from major outbreaks. He said four prefectures across the country reported their highest daily figures on Thursday.
Nishimura said the government will do everything possible to reduce the number of new infections and prevent the healthcare system from being overwhelmed.
Nishimura asked the panel to discuss what measures should be taken regarding parties, travels and visits to hometowns during the year-end and New Year holidays.
Health minister Tamura said experts have warned of a possible spike in infections during the New Year period. He said experts have spoken of the need to prepare for a rise in the number of severely ill patients at a time when the medical system is already under strain.
He said strong measures must be taken under the leadership of governors across the country.
Experts at the panel proposed tightening restrictions in places where cases continue to rise at a rapid pace.
They suggested that authorities step up requests for restaurants and bars to shorten their opening hours and continue measures to exclude certain areas from the government's Go To Travel domestic tourism campaign.